All different. All equal. All achieving.
All pupils are encouraged to adhere to the Uniform Policy which is as follows:
Uniform Key Stage 3 & 4
The basic concept of our uniform is black and white and should be worn as follows:
Black/grey trousers or skirt
White polo shirt with school logo
Optional Black polo shirt for KS4 pupils
Black sweatshirt with school logo
Black/brown shoes (no trainers)
PE kit follows the same format as:
Black shorts/skirt
Blue, red or green polo shirt relevant to their school team with school logo
White/black socks
Trainers
Tracksuit (optional for cold weather)
Primary Department
Black/Grey trousers/skirt
Pale blue polo shirt with school logo
Royal Blue sweatshirt with school logo
Black/brown shoes (no trainers)
PE kit:
Black shorts/skirt
White t shire with school logo
White/black socks
Trainers
All long hair should be tied back and as this can have serious Health & Safety implications
Please make sure all items are named.
Jewellery
The only jewellery allowed to be worn in school is:
Studs in ears. Earrings are not to be worn.
Watches
Medicare pendants or bracelets
They must be removed for physical activities and craft activities, or covered by sticking plaster, at the discretion of the teacher in charge of those subjects. When the items have been removed they will be kept secure in the teacher's cupboard.
Purchase Uniform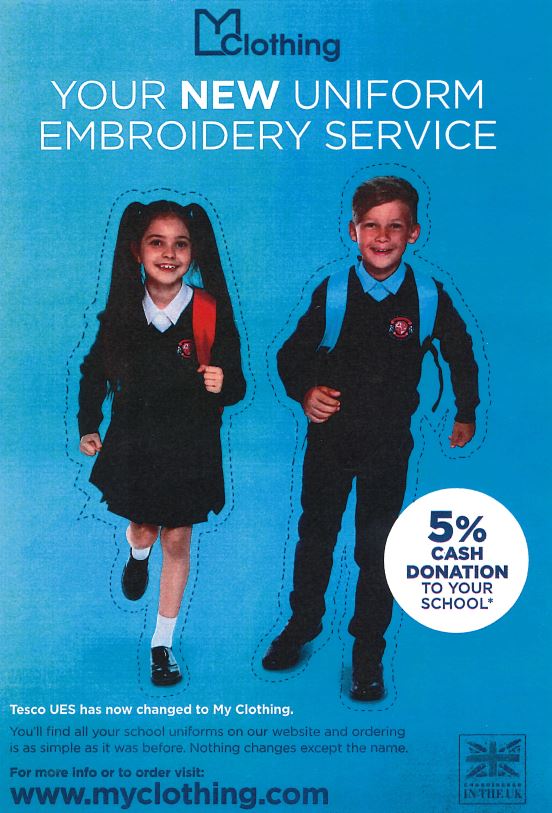 http://www.myclothing.com
Uniform is available to purchase direct from My Clothing
Following a very successful 2 night run of our school play we are pleased to announce that £154.00 was raised through the provision of refreshments by Sodexo.  The money will be donated to Naomi House, the schools charity.  Sodexo continue to support the school in...
read more
INSET DAYS 2019-2020
7 October|6 December |22 January|16 March|3 July
14 February
Break up half term
24 February
School restarts
26 February 
Parents evening Year 7 & 8
Headteacher: Mrs Anna Dawson B Ed, Cert Ed Special Needs
Samuel Cody Specialist Sports College, Ballantyne Road, Farnborough, GU14 8SN. Email: adminoffice@samuelcody.hants.sch.uk Telephone: 01252 514194
If you would like a paper copy of any of the information on this website, please contact the school office.